The Importance of Regular Service and Maintenance for Hoffman Estates Drivers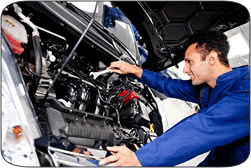 At Mercedes-Benz of Hoffman Estates, we're committed to making sure our customers understand the benefits of keeping up with regular service and maintenance on their vehicles. Standard scheduled service is crucial to making your vehicle last, and given the investment that goes into purchasing a new car ... to say nothing of the quality of a Mercedes-Benz ... the last thing you want to do is let your vehicle's performance suffer due to a lack of regular maintenance.
Benefits of Getting Consistent Mechanical Check-Ups
The overall benefits of keeping up with routine maintenance can be summarized best by the following three categories:


Reliability:  Simply put, if you don't take good care of your vehicle, then it's not going to be there for you down the road. Sure, this means following the recommendations for Service A and Service B* that you'll find in your owner's manual, but it also entails having routine check-ups performed by expert technicians. All fluid level checks and corrections are dependent on factory-recomended service intervals for your vehicle's year and model. 

Visit our service center at least once a year and we'll give your vehicle a thorough inspection ... that way, we can identify and fix any issues before they turn into larger problems that require costly repairs. 




*Price advertised for Service A/Service B includes all factory-required components. Please refer to your maintenance booklet for the complete list of factory-required services and details on the specific intervals for your vehicle's year and model.

 


Value:  Are you looking to sell your car at some point in the future so that you can get behind the wheel of the latest and greatest Mercedes-Benz model? Then you'll want to keep up with routine service and maintenance so that it continues to run in optimal condition.
 


Fuel Economy:  There are a number of ways that regular maintenance can help ensure you're getting the most out of your vehicle's fuel economy. For instance, making sure your tire pressure is set to the right levels can help prevent your car from expending unnecessary energy and fuel while moving. Similarly, if your air filter is clogged or your fuel lines are leaking, your vehicle's fuel economy can be negatively affected by up to 20%.
Visit Our Service Department Today
Service and maintenance don't have to be difficult to keep up with. Make an appointment  at Mercedes-Benz of Hoffman Estates, and we'll get your vehicle in and out of our service center as quickly as possible. You'll find our dealership at 1000 West Golf Road in Hoffman Estates, IL, just west of the intersection of West Golf Road and West Higgins Road.